No new updates on the public track build itself. The City, CSU, etc have much higher priorities due to COVID-19, etc. We did notice new signs this week at the dirt track reminding the public that it's CSU property. 
We have heard that Fort Collins High School is almost done with their track upgrade. The track foundation was redone and now the infield is being worked on with artificial turf and once that is done, they will hopefully pour the rubber topping to finish it before the snow flies. But, we have still not heard when PSD facilities will be re-opened to the public. We'll try to ask about that ASAP.

As for TNT – we are still posting workouts and we had a few people safely join us regularly on the track – but now with no local tracks really available, we will either look at going to Loveland HS every once in awhile or wait for PSD to let us back on a HS track.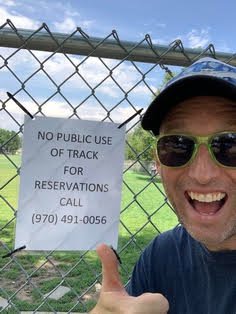 As summer comes to a close, we have about a month left for track style intervals and then we shift back to winter when we use the trails and team up with Nick for HTH hill interval training. 
Interested in joining a committee? We are always love having club members be part of what we do! Just contact us and we'll put you in touch with the proper committee chair.