Run Fort Fun and the Track Initiative
MISSION: To inspire a healthier community by getting people excited about running.
VISION: To secure a public running track facility in Fort Collins.
A committee has been formed, comprised of Fort Collins Running Club Members, RunFortFun/TNT members, the Poudre School District and the City of Fort Collins to pursue and secure a public running track facility. Through public outreach, collaborations and partnerships, we aim to provide a quality running track that can be used by anyone.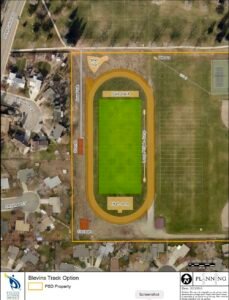 LATEST UPDATES:
9/1/2021 – Poudre School District has formally signed a letter of intent with the City of Fort Collins to upgrade and resurface the Blevins Middle School track with the intent of allowing the community to use the track free of charge. The new track will provide a safe and modern experience for middle school students, middle school athletes as well as the community. Current track options for public use in the City are met with obstacles. For example, CSU's Jack Christiansen Memorial Track is completely off limits to the community and the CSU student body. Current Poudre School District facilities (FCHS, FRHS, PHS) are available to use for a small yearly fee. This new partnership will ensure that the Blevins track will be open to the public at no charge. The Fort Collins Running Club, along with TNT and the City Gives program are leading the charge to raise the funds necessary to build the new track. More details on how you can donate and contribute to this vision are coming soon!
2/8/2020 – Chris attended open house for Parks and Rec Master plan at Preston Middle. Public Track is in the conversation and on City radar and attendees expressed interest.
2/1/2020 – Track committee met. Picked up new member, Clint, who expressed interested in creating rendering for track proposal.
12/10/2019 – Chris attended first Parks and Rec Master plan forum at Aztlan Center. Discussed need for public track and there was excitement around it.
11/14/2019 – Members of committee met with City Officials (Mayor, City Manager, Dir of City Give) to present public track ideas as well as RRCA award.